BEZ series Vertical Mixed Flow Pump
Product Detail
Product Tags
Remarks:
We have been OEM for many brands from Europe and USA.
1、Thrust bearing can be assembled on the motor or pump.
2、Not necessary for pre-lubrication cooling water or filter system when using residur bearing.
3、Fabricated construction as standard design for diffuser.As quested cast iron construction is available.
4、Excellent hydraulic model with higher efficiency&better cavitations.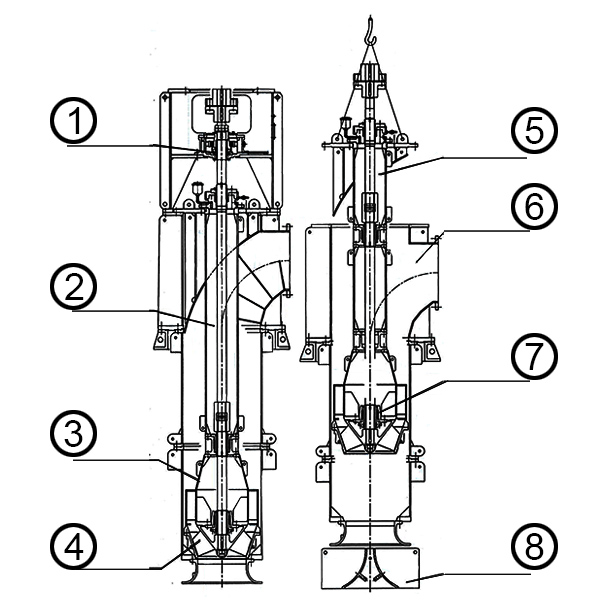 5、Pull-out design,easy for installation&maintenance.
6、Series standard design,various installation.
7、Residur bearing(with self-lubrication)or thordon bearing.
8、Optimize design inlet chamber minimize pump inlet lowest submerge depth and guarantee no whirl will be occurred when pump starts to operate.
1、motor stool
2、drive coupling
3、thrust bearing
4、top shaft
5、stuffing box
6、delivery suspension pipe
7、discharge cover
8、discharge elbow
9、disc coupling
10、foundation ring
11、column pipe
12、bearing housing
13、pump shaft
14、diffuser
15、bearing bush
16、impeller
17、wear ring
18、suction bellmouth
19、inlet cone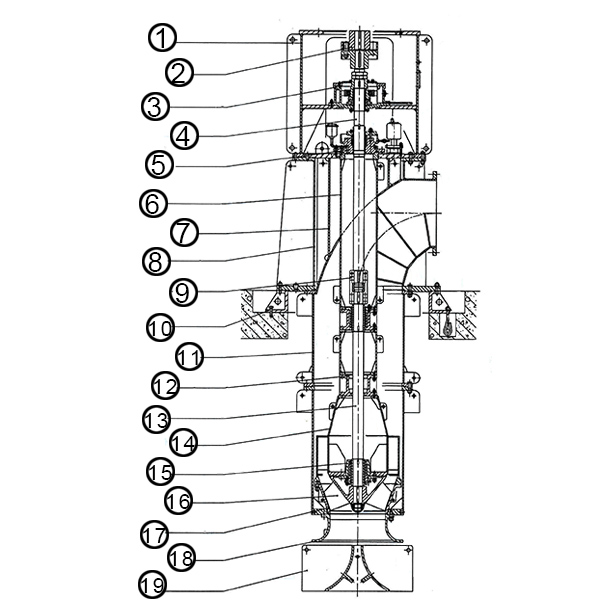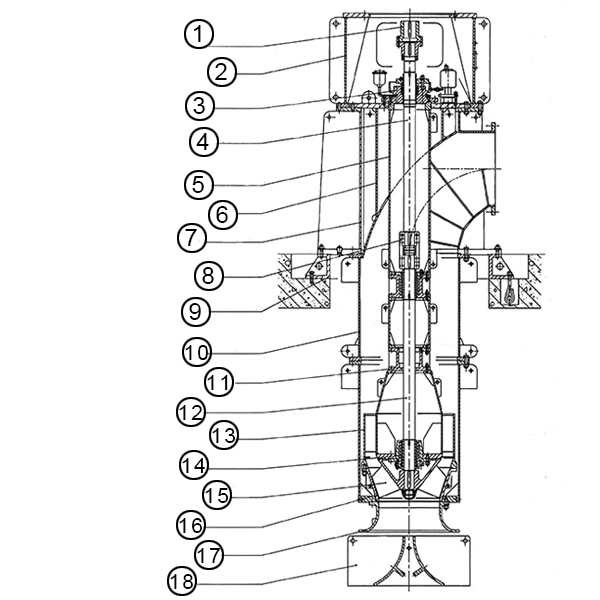 1、drive coupling
2、motor stool
3、stuffing box
4、top shaft
5、delivery suspension pipe
6、discharge cover
7、discharge elbow
8、disc coupling
9、foundation ring
10、column pipe
11、bearing housing
12、pump shaft
13、diffuser
14、bearing bush
15、impeller
16、wear ring
17、suction bellmouth
18、inlet cone
---
Previous:
BMF series Horizontal Mixed Flow pumps
---